WORN GALLERY.
Embedded at the heart of Ullac Oy is a culture of collaboration. We believe in the power of creativity; in working with creators, and allowing them the space to do just that.
Our new project Worn Gallery harnesses this creative potential to create unique pieces of art.
If you're looking at this on your mobile and you probably are, it probably looks like this is the end of the page, but it's not. All the best bits are below, so use your opposable thumbs to scroll down.
One of the things about clothes that we find magic is how an item becomes yours. We encourage our clothes to be worn lots, and always. Every time your body moves, every night out you take it on, every country you take it too, all the rain you get caught in, make it unique to you. Our experiences move into our clothes and give them an atmosphere that documents our past.

This uniqueness is really special to us, and something we wanted to explore with Worn Gallery. As such, we have collaborated with a small roster of artists who have hand painted a series of six white painter jackets. We've been massive fans of all of these artists for a long time and the jackets are incredible. Each individual artist now wears their jacket, as they move through their own lives, imbuing character into each piece.
Laurie Vincent.
"My jacket was inspired by my current body of work. The flock of birds i paint give me the sensation of overwhelming energy. A mass of beings all moving together in the same direction, for one another, making a seemingly impenetrable force.

The non perfect repetition of the birds draws me back time and time again. How satisfyingly they work together even though they're not all the same.

I wanted the jacket to almost look like a patterned fabric. The birds lent themselves perfectly to this. I hoped the full back print, rather than a symbol or centred image, would avoid the cliche 'punk rock painted jacket' look. My aim was to create something that felt like a wearable artwork, with the denim feeling like the raw canvas i use in my paintings."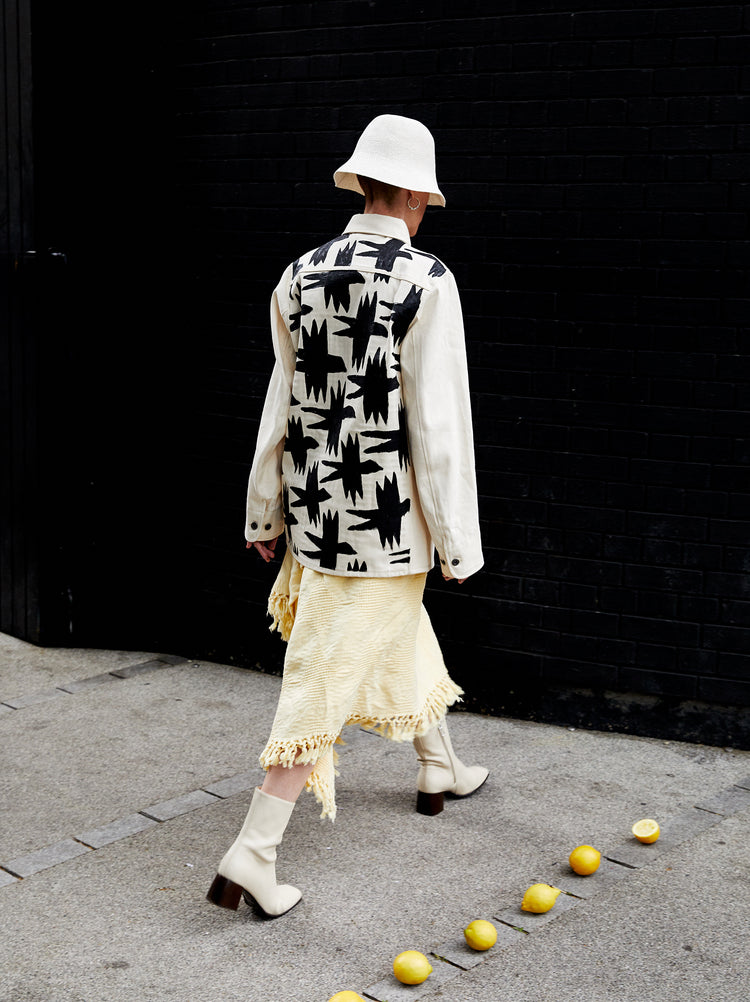 Anna Liber Lewis.
"Inspiration for the jacket came off the back of a body of work I created in response to music and memory and the London club scene in the 90s. Working in a flow of free association I was thinking about the jacket as an important symbol of identity. What inspired me were jackets from key moments in my past: the Japanese style, homemade cotton, quilted jacket I wore as a kid (i'm sure it had an image of the sun on it). Or the denim jacket I customised and wore to death as a teenager adorned with strong symbolic images of protest and rebellion. A good jacket should tell its own story: activated and enhanced through a relationship with its wearer. This is the opposite of disposable fashion."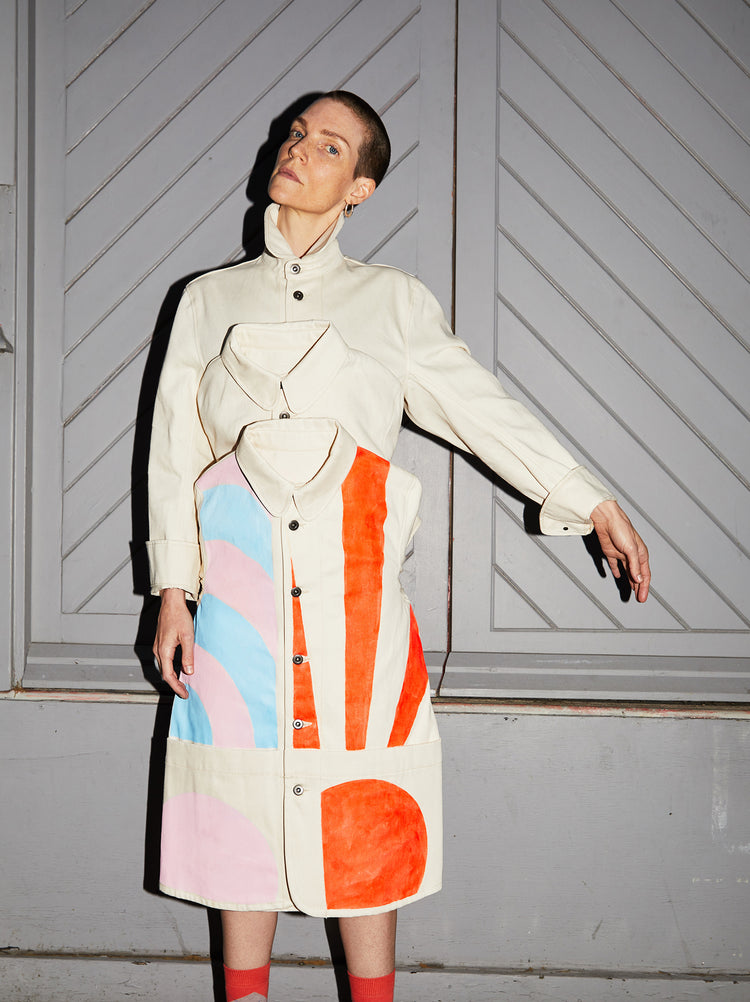 Tattoos for your enemies.
"The jacket has a few influences which tied together to create the final piece. I referenced vintage postcards depicting horses heads and skulls, the arrangement on the back imitating a backpiece layout for a tattoo. The tribal designs follow the shapes of the pockets and jacket flowing with the lines as they have done as tattoo designs for 100's of years. The overall finish is a combination of tattoo and art influences which is a common theme in my work."
Natalya Lobanova.
"I knew I wanted to paint fruit onto the jacket, and originally I was going to cover the whole thing with a whole medley of fruit. After I painted the red currants on the collar, I realised the simplicity and sturdiness of the jacket and the natural colour of the fibre really reminded me of traditional Russian clothing, which is where I'm from. I decided to follow that theme and keep it simple and folk-like – the pomegranates were chosen because the pay homage to central Asia, also part of my ancestry."